Best PAMM Accounts
A PAMM account could be right for you if you lack the time or experience to trade Forex. Sit back, relax and let others invest on your behalf.
But first, if you're a US resident, see our guide to PAMM accounts for US residents instead.
What's a PAMM account?
PAMM is complicated word for what is a rather simple idea. When you invest in a PAMM account, you pool your money in a fund, and let a third party invest the fund on your behalf. The fund manager is usually entitled to a performance fee, only paid from profits. The word PAMM is an abbreviation of "Percentage Allocation Management Module".
PAMM accounts are similar to "social trading" or "copy trading" accounts, the difference being that a social trading or copy trading account, is opened in your name. Your funds aren't pooled with that of traders. This gives you a little more control over how you manage risk, as we'll touch on later, but is just as safe as a PAMM account from a regulatory perspective.
Of the brokers reviewed on this page, 4xc.com offers a PAMM account, whereas FPMarkets.com and LiteFinance.com offer copy trading accounts with more risk management capabilities.
4XC PAMM Account
4xc.com is an offshore broker founded by industry veterans. It has won a string of awards, including one for Best Customer Service in 2020. It provides fast execution, with tight spreads and no re-quotes. Client funds are held in segregated accounts with European banks(1).
Platform: its PAMM service allows you to invest in over 270 funds. Its interface shows performance metrics such as percentage gains over time as well the current profit or loss on open trades (called "Open P&L").
Min. deposit: the minimum amount you'll need to invest in a PAMM account varies from one account to the next, and is set by the fund manager. We've seen amounts range between $100 and $25,000. Large funds typically have higher minimum deposits.
Performance fees: there are no fixed costs associated with opening a PAMM account. Instead, fund managers charge a performance fee, which can vary between 5% and 50%. Importantly, the performance fee is only paid on profitable trades.
Risk management: once you've invested in a fund, your exposure is limited to the size of your investment.
Visit 4xc.com to search and compare PAMM managers. You'll need to register (no deposit is required) to view PAMM account performance statistics.
LiteFinance Copy Trading
LiteFinance.com, formerly known as LiteForex.com, is a global ECN broker founded in 2005. Just like FPMarkets, it supports both the MetaTrader 4 and 5 platforms, and allows all trading styles.
Service: its copy trading service is home to over 1,600 traders. We found 2 traders manage over US$ 1 million in assets, some of which is their own money, which helps aligns their interests with yours.
Min. deposit: there's no minimum investment. You get to chose how much you wish to invest in each copy relationship.
Performance fees: are set by each trader, and tend to vary between 20% and 30%, as was the case with FPMarkets. These fees only apply to profitable trades.
Liquidity: as your copy trading account is in your own name, you're free to withdraw your funds at any time. LiteFinance allows automatic withdrawals up to $5,000 per day across a wide range of payment methods ($2,000 per day for clients from Kenya and Tanzania).
Risk management: you can stop copying a trader automatically once certain profit or loss thresholds have been met. No other risk management tools apply, as day-to-day trading decisions are made by the trader you're copying.
To get started, login to your account with LiteFinance.com. It's free to register and should only take a few minutes of your time.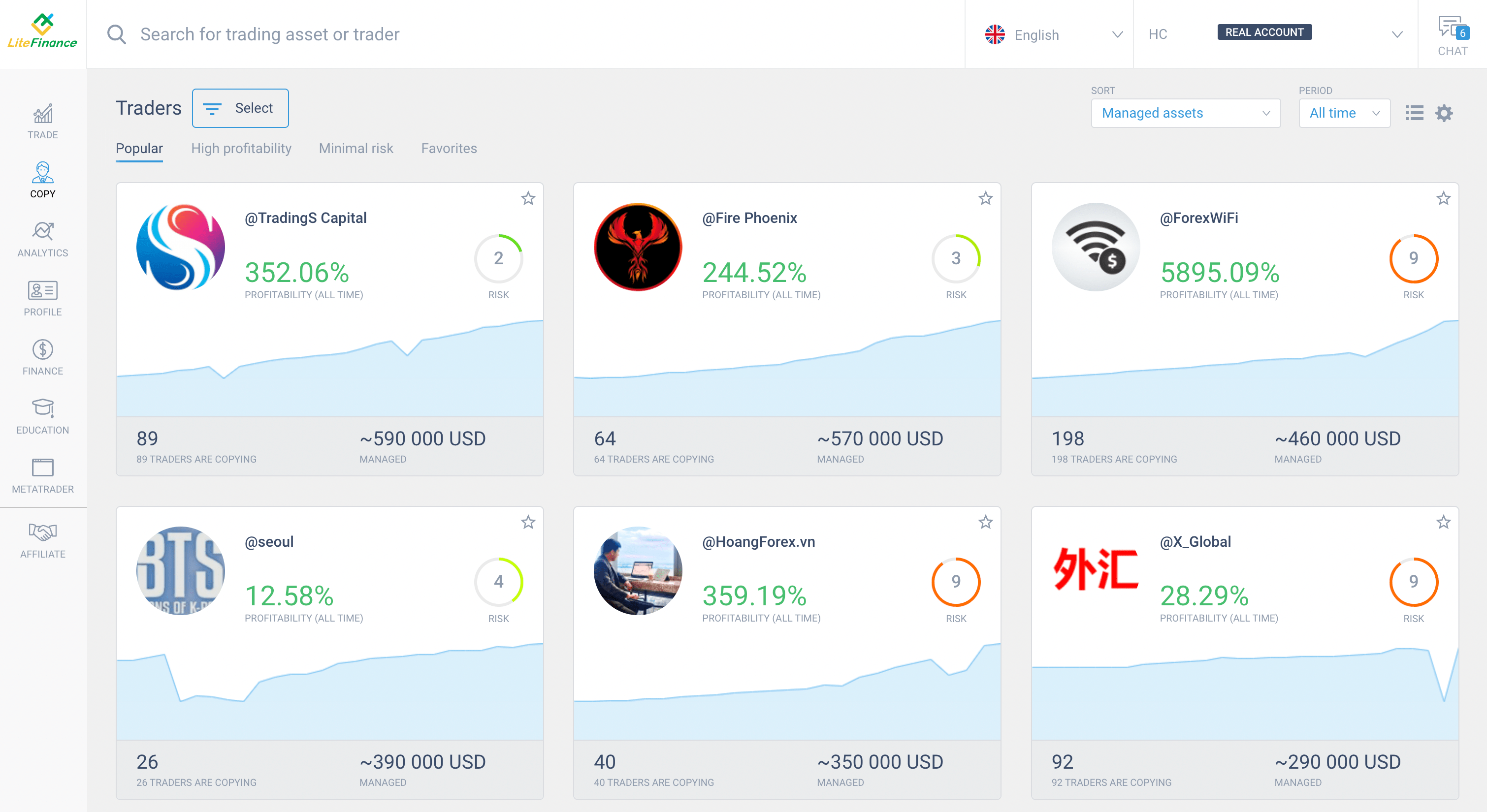 FP Markets Copy Trading
FPMarkets.com is a global Forex and CFD broker, founded in 2005 in Australia. Trade CFDs on currency pairs, stocks, indices, and commodities or copy other successful traders. All accounts come with negative balance protection, as standard(2).
Platform: FP Markets is a relative newcomer to this space. It launched its copy trading platform in March 2021 and allows you to chose from over 300 signal providers. Its interface makes it easy to review each traders' performance, however, it lacks information about their total assets under management.
Min. deposit: the minimum deposit varies from one trader to the next. We've seen amounts vary between $50 and $1,000. You then decide how you wish to copy their trades: copy their trades in proportion to your investment, or only allocate a fixed amount towards each trade.
Performance fees: there are no fixed fees associated with opening an account, or copying another trader. Instead, each trader sets a performance fee that is only charged on profitable trades. We've seen percentages vary between 20% and 30%.
Liquidity: you're free to withdraw your funds or end the copy relationship at any time, as your copy trading account is in your own name. FP Markets charges no withdrawal fees. You may withdraw funds to a bank, a credit card, a debit card or even a crypto blockchain.
Risk management: is one of FP Markets' strong points. You can stop copying a trader automatically once certain profit or loss thresholds have been met. You may also temporarily pause the copy relationship, or close copied trades individually.
To get started, visit FPMarkets.com and open a free account with FP Markets LLC, the entity through which it provides its copy trading service. The company name will be shown on the account opening form. You'll need to be logged in to your account to compare traders and their performance metrics. To see for yourself, check our review of FP Markets' PAMM account, which includes a video walk-through.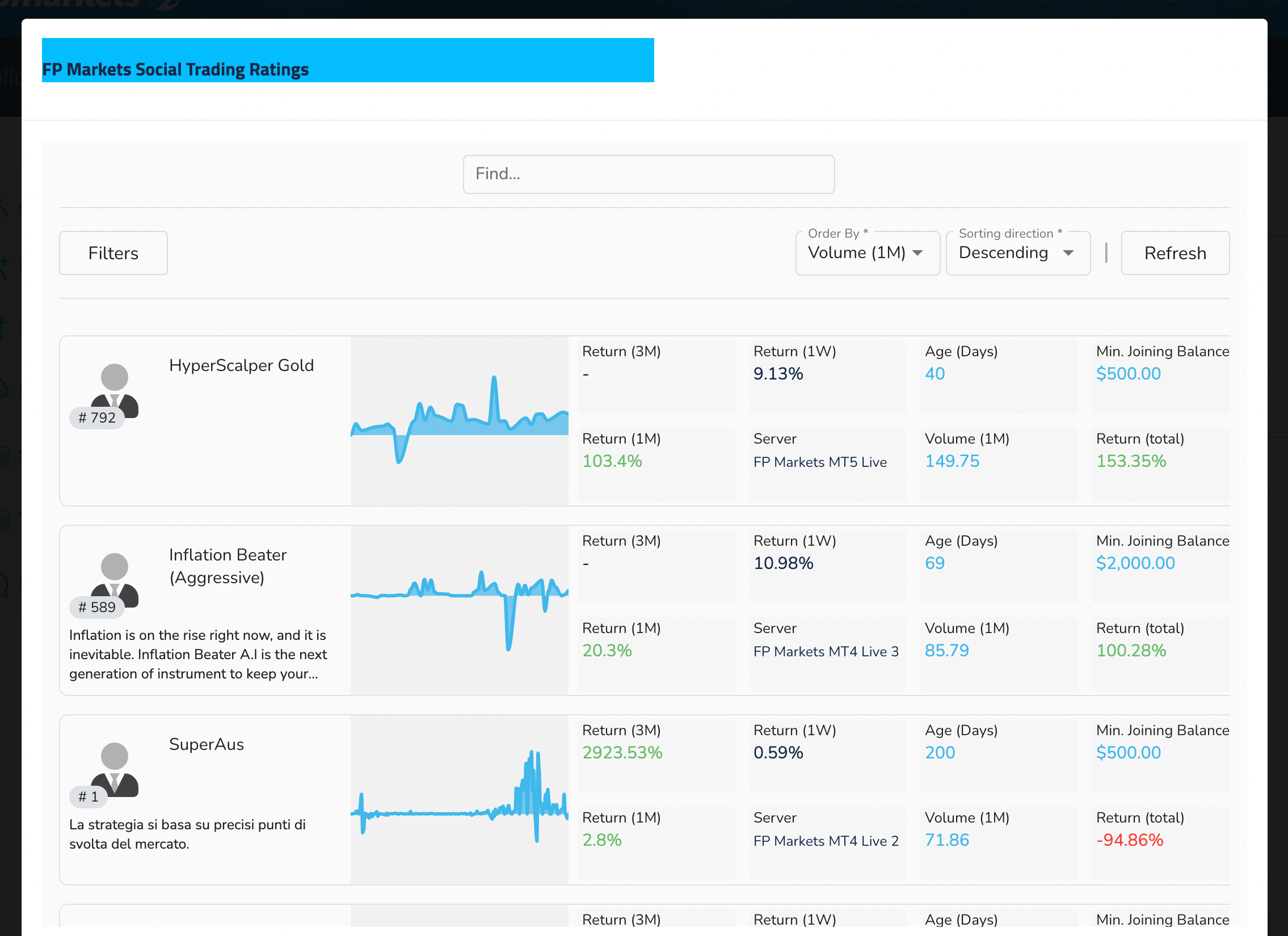 Share this article:

About the author
I'm Stéphane, a trader and an entrepreneur. My mission with TrustedBrokers is to help you find the right broker for you, whether you're a beginner or a pro. I've personally used and tested the brokers on our service, opening and funding real-money accounts, contacting customer service and placing trades. I started my career in investment banking in London.